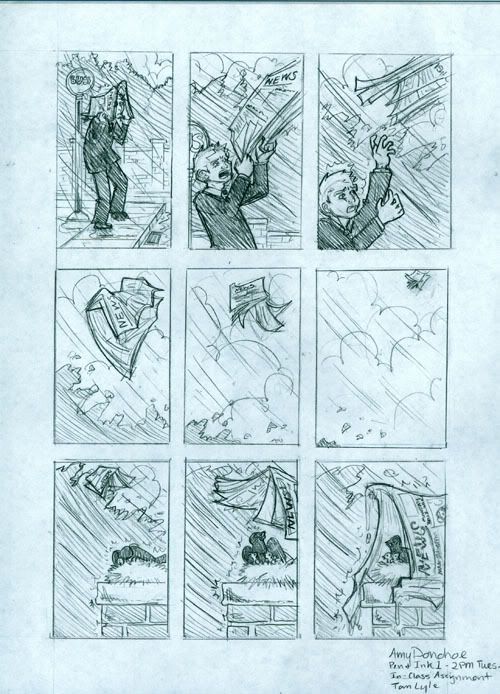 I finished my play for my screen writing class
POSTAL
A Play in Three Acts
by
Amy Donohoe
Cast of Characters
Walter Fitts: A man in his early 30s.
Martha Peters: A woman in her early 30s.
Tom Peters: A man in his late 20's, Martha's husband.
Richard Peters: Friendly kindergartener, oldest son of Martha and Tom Peters.
Mark Peters: Shy preschooler, youngest son Martha and Tom Peters.
Scene
Open-plan living room/ kitchen of the PETERS' home.
Time
The present.
Act I
Scene 1
SETTING: We are in the bright, friendly open-plan living room/kitchen of the PETERS planned community, suburban home. In the foreground is a kitchen island and a counter complete with a sink and over-head cabinets. In the background is a couch flush against the wall and the front door. Family pictures cover the walls and forgotten toys are strewn through out the room.
AT RISE: MARTHA PETERS is standing at the sinking, washing her paintbrushes and palette. She's wearing a dirty, paint spackled apron over a respectable brown, short-sleeved, scoop-necked shirt, light colored khaki pants, and brown flats. Suddenly, the doorbell rings.
MARTHA
Oh, I told those kids to not mess around and come straight in.
(MARTHA throws her apron aside as she walks
toward the front door. MARTHA adjusts
her hair and smoothes her clothing before
answering.)
MARTHA (Cont.)
(scolding)
What have I told y - OH! Hello, I'm sorry, I thought you were my children-
(MARTHA looks down at her feet in embarrassment as
the mailman, WALTER FITTS greets her with a smile.)
WALTER
(smiling)
It's quite all right, ma'am.
MARTHA
Oh, you must be our new mailman. It's so terrible what happened to Mr. Henry. But he normally just left our mail in the box.
(MARTHA looks him over with a vague sense of recognition.)
WALTER
(smiling)
Yes ma'am, a tragedy, indeed. However, I like to get to know the citizens on my route on a more personal level. Call me old fashioned, but it's more pleasant that way.
(WALTER takes off his mailman hat and bows.)
WALTER (Cont.)
Well, I'm WALTER FITTS, and if I do say so, it's very nice to meet a lovely young lady like you.
(MARTHA blushes uncomfortably. She crosses her arms looking slightly uneasy as WALTER stands in the doorway staring for a few moments.)
WALTER
(hands MARTHA a bunch of letters)
Oh yeah, here's your mail! Have a nice afternoon, MS. LYNN.
(WALTER exits leaving an astonished MARTHA. She closes the door and slumps onto the floor. She clutches her head, letting the letters flutter to the floor.)
MARTHA
(confused)
How did he know my maiden name? He seemed friendly enough, but that kind of gives me the creeps.
(MARTHA glances down at the letters on the floor and shakes her head. She suddenly snatches up an important looking letter.)
MARTHA (Cont.)
AH-HA! I got an alumni letter addressed with my maiden name. Still, he seemed very familiar.
(MARTHA is jolted from her thoughts by the sound of two little pairs of feet pounding up the walkway.)
RICHARD AND MARK
(shouting as they burst through the door.)
MOM, WE'RE HOME!
(MARTHA stands up and picks up the mail off the floor.)
RICHARD
(giggling while poking his younger brother.)
HEY MOM! What were you doing on the floor, huh? I'M HUNGRY CAN WE HAVE A SNACK??
MARTHA
Mommy was just a little surprised, that's all, honey.
MARK
(shouting)
SNACK, SNACK, SNACK!
MARTHA
(sternly)
What do we say?
RICHARD AND MARK
(groaning and whining)
PLEEEEEASE??
(RICHARD and MARK follow MARTHA towards the kitchen area. They dump their backpacks on the floor and climb into a seat at the kitchen table. MARTHA prepares their snack and places plate of peanut butter and celery sticks in front of the two boys.)
RICHARD
(moaning)
Aw, MOOOOM, can't we have CHOCO-PUFFS??
MARK
YEAH, CHOCO-PUFFS, CHOCO-PUFFS! I HATE CELERY!
MARTHA
(arms crossed)
No, those things will rot your teeth!
(TOM PETERS enters the front door holding his briefcase, a newspaper, and has his jacket draped over his arm.)
TOM
(walks toward kitchen area)
HONEY, I'm HOME!
(TOM and MARTHA kiss)
TOM
(hugging MARTHA)
And how are we doing today?
MARTHA
(MARTHA sighs and pulls away from TOM)
Ugh, you know just another day at the salt mines. But there was something weird with the new mailman.
(BLACK OUT)
(END OF SCENE)
SCENE 2
SETTING: We are in the PETERS home a few days later. Everything is still in its original place, except the toys, which have been put away.
AT RISE: MARTHA PETERS is sitting on the couch looking her college yearbook. She's wearing a form-fitting brown hooded sweatshirt over a blue scoop-necked shirt, with light colored khaki pants and brown flats.
MARTHA
(flipping through book)
Even though it's been a few days, I still can't shake this feeling.
I know I've seen that mailman before!
(MARTHA continues flipping through the book until she suddenly stops. Her eyes go wide with recognition as she sees a photo of WALTER FITTS.)
MARTHA
(gasping)
I remember now, I had a fling with a WALTER FITTS a long time ago! But I dumped him when he started getting too weird.
(The doorbell rings and Martha opens it to find WALTER FITTS.)
MARTHA (Cont.)
(angrily)
Hello WALTER. May I ask what you're doing here?
WALTER
(smiling pleasantly)
Oh I think you know why. You hurt me really bad back then, but now I'm back and there's nothing you can do about it.
MARTHA
(annoyed)
Oh, really? Well I don't think the post office will be to pleased to hear that one of it's employees is stalking a citizen on their route.
WALTER
(smiling even bigger)
No one would believe you. They'd just think you're a paranoid housewife. By the way, how are your husband and two darling boys? Those kids are quite a pair.
MARTHA
(enraged)
I swear to God, if you ever lay a hand on my family I'll kill you!
WALTER
(tuts disapprovingly)
Now, now, MARTHA LYNN. Threats aren't very becoming of a lady.
MARTHA
(yelling)
GO TO HELL, ASSHOLE!
(MARTHA slams the door in his face.)
MARTHA (Cont.)
(leaning against the door)
I'm not answering the door for him again. He can just leave the post in the letterbox like a normal person. Why is he doing this?
(The children come home and MARTHA sends them to get the mail. They come back with the mail and a bouquet of daffodils tied with a roll of stamps.)
MARK
(shouting excitedly)
LOOK MOM, SOMEONE LEFT YOUR FAVORITE FLOWERS!
RICHARD
OOOH, MOM HAS A SECRET ADMIRER!
MARTHA
(ignoring RICHARD)
Boys, from now on you two are responsible for bringing in the mail. Okay?
RICHARD AND MARK
Okay, Mom!
(BLACK OUT)
(END OF SCENE)
(END OF ACT I)
ACT II
SCENE 1
SETTING: It's evening in the PETERS home a few days later.
AT RISE: The family is eating dinner at the kitchen table.
TOM
(pointing with his fork at a pile of items on the couch)
So what's with all that stuff piling up the past few days?
MARK
(shouting while waving his fork in the air)
MOM'S GOT A SECRET ADMIRER, DAD!
RICHARD
(yelling while copying MARK)
YEAH, THEY LOOOVE HER! THEY LEAVE HER PRESENTS EVERYDAY!
TOM
(questioning)
Honey, do you have any idea who's doing this?
MARTHA
(gulps and shakes her head)
No, but they've left those daffodils tied with a ribbon of stamps, that giant poster portrait collage of me made from stamps, and a box of ready-stick envelopes.
TOM
(chuckling)
You sure you're not having an affair with the mailman? But it's creepy if you ask me.
MARTHA
(laughing weakly)
Ha-ha, yeah, pretty strange all right.
(Dinner ends and the kids are sent to bed. MARTHA is doing the dishes when TOM calls her over to the table.)
TOM
(placing a package on the table)
Honey, come here for a minute.
MARTHA
(joining him)
What is it, TOM?
TOM
(handing her the package)
It's a package I found on the doorstep right before I came in.
(MARTHA sets the box back on the kitchen table.)
MARTHA
It's addressed to me, but I haven't ordered anything. It's from the Plastic Dream Company? What's that?
TOM
(urging)
Open it, sweetie.
(MARTHA glances at him unsurely and opens the box. She pulls out a black latex cat suit, a matching crop, and a length of bondage rope.)
MARTHA
(confused)
What the - What is this? Tom, I didn't order this stuff! You know I'm not into this kind of thing.
TOM
(picking up the receipt out of the box)
Well it's says that someone used our card to purchase it, but if you didn't, we have a problem. This could be identity theft. We'd better make a report and cancel our cards in the morning. You're sure you have nothing to confess, MARTHA? You've been acting pretty strange lately.
MARTHA
(talking in a high strung voice)
Oh, it's just stress from my deadlines for this new book and that whole "secret admirer" thing.
(They embrace.)
TOM
I love you MARTHA and I want you and the kids to be safe. I just hope this secret admirer guy isn't a stalker.
MARTHA
(laughing weakly)
Ha-ha, yeah, stalker.
(They exit to their bedroom.)
(BLACK OUT)
(END OF SCENE)
SCENE 2
SETTING: It's the next afternoon in the PETERS home.
AT RISE: Martha is ironing in the living area.
(The doorbell rings and MARTHA hears her children taking to someone outside. She opens the door.)
MARTHA
Hey RICHARD and MARK, how was school?
(MARTHA is shocked to see RICHARD and MARK standing with WALTER FITTS. The boys are smiling and holding the mail and new match-cars.)
MARK
LOOK MOMMY! LOOK WHAT THE MAILMAN GAVE US!
RICHARD
HIS NAME IS MR. FITTS, DUMMY! BUT HE'S REALLY NICE, MOM!
WALTER
(ruffling RICHARD'S hair)
Yep, you boys sure are a big help to you mother.
(MARTHA looks livid as she watches WALTER'S hand.)
MARTHA
(sternly)
You two go inside and start you homework.
(The boys exit off screen to their rooms.)
MARTHA
(glowering)
You've gone too far. Leaving me those weird gifts, sending me that S&M sex stuff, and now this? I'm reporting you to the police!
WALTER
(smirking)
What, you didn't enjoy my little gifts? Go ahead and call, you've got no proof and no one will believe you.
MARTHA
(yelling)
You're insane! Goodbye, WALTER!
(MARTHA slams the door and locks it. She hears WALTER yelling and pounding on the other side.)
WALTER
(off-screen)
YOU'RE GOING TO GET YOURS ONE WAY OR ANOTHER, MARTHA!
(Martha slumps against the door and starts to cry.)
(BLACK OUT)
(END OF SCENE)
(END OF ACT II)
ACT III
SCENE 1
SETTING: It's evening in the PETERS home, TOM has come home and the family has just finished dinner.
AT RISE: The boys are in their rooms, and their parents are in the kitchen area talking. MARTHA is confessing everything to TOM in a flood of tears while placing cookie dough on a pan.
MARTHA
(upset)
-He just didn't understand that it was a fling. He started to tell me things like I was his goddess and that he loved me. That bothered me, so I ended it and moved on. But then he started to constantly show up at my place and call me. I felt a little guilty, but he was starting to scare me. In the end I told him to leave me alone and he did, until now. He's started stalking me again, and I think he really wants to hurt me!
TOM
(growling)
I'm calling the police; this has gone on long enough.
(TOM picks up the phone.)
TOM (Cont.)
(dialing)
Get the boy's, we're staying with your mother until this all blows over.
(Martha puts the cookies in the oven, sets the timer, and exits the scene.)
(BLACK OUT)
(END OF SCENE)
SCENE 2
SETTING: It's evening in the PETERS home and the lights in the open-plan living room/ kitchen are out.
AT RISE: MARTHA re-enters the now dark kitchen/living room with her kids in tow, they all look ready to spend the night at their grandmother's house.
MARTHA
TOM, we're ready. Did you call you-know-who? TOM- OH MY GOD!
(MARTHA screams as she flips on the light and sees TOM sitting at the kitchen table at with a gun to the head. WALTER is standing behind him shaking, but still smiling creepily.
TOM
(blurting)
He got in somehow! I tried to warn you but-
WALTER
(screaming)
SHUT UP!
(WALTER pistol-whips the back of TOM'S head. MARTHA, RICHARD, and MARK scream as TOM winces in pain. WALTER slowly points the gun towards MARTHA and the boys.)
WALTER
Don't any of you move, or I'll shoot. All of you are going to sit down at the table and I'm going to have a little talk with MRS. LYNN about what a bad girl she's been.
(The rest of the family sits down shaken; the boys are crying.)
WALTER
(shaking)
I loved you, Martha, I really did. But you broke my heart and treated me like I was some sort of creep. All I wanted was to start a family with you. I came here to take your loved ones from you, but I've decided I'm a better person than that. I'll agree to let you all go unharmed if you and the boys pretend to be the family I never had.
(The PETERS all glance at each other and then back to WALTER. The oven timer goes off.)
MARTHA
(timidly)
I think we can manage that WALTER. Would you like a cookie?
WALTER
(smiles)
I'd love one. Ah, I feel so much better now that I've finally gotten that off my chest!
(TOM sneaks to the phone and exits into a bedroom while WALTER blissfully plays make-believe with his new "family." He calls the police, remerges and slides back to his seat. He shudders when he sees WALTER, MARTHA, RICHARD, and MARK snuggled up on the couch, eating fresh-baked cookies while MARTHA reads aloud one of her children's books.)
WALTER
(laughing)
I love this story!
(MARTHA and the boys manage weak smiles. WALTER yawns and his eyes begin to droop. Little by little he nods off.)
MARTHA
(reading)
And so things were different from then on. Once a week the little girl's mother would take off a night of work and spend her time with her daughter. THE END.
(MARTHA sneaks a look at WALTER who's fallen asleep. She quietly snatches the gun from his grasp as TOM lunges across the room. Police sirens wail off stage as MARTHA hustles her boys to their rooms and TOM guards the sleeping WALTER. The police knock on the door.)
POLICE
(off-screen)
THIS IS THE POLICE, IS EVERYONE ALL RIGHT IN THERE?
(MARTHA walks to the door adjusting her hair and smoothing her clothes.)
MARTHA
(opening the door)
Shhh, he's sleeping!
(BLACK OUT)
(END OF SCENE)
(END OF ACT III)